Bass anglers should concentrate on fishing shallow shorelines in the Rocky Mountain Recreation Area. Try the shallow coves in Antioch Lake and the upper end of Heath Lake. Slowly twitching topwater baits such as Rapalas and Rattlin' Rogues can be productive.
On warmer days, do not overlook a buzzbait crawled slowly across the surface for drawing smashing strikes. With the arrival of early summer, bass will take up station on deep structure. Probing the depths with a deep-diving crankbait or Carolina-rigged soft plastic can produce the best fishing of the year.
Many bassRocky Mountain Recreation Fishing
anglers overlook autumn when fish are fattening up in anticipation of winter. A medium-diving crankbait is a good bet during this period because it closely imitates what the bass are feeding on, and covers a lot of water.
Winter will find bass deep and lethargic, although they will still strike if a bait is presented in front of their noses. Portions of the south side of Antioch Lake and the east side of Heath Lake drop off very quickly into deep water and are good places to bass fish in winter. Especially on Heath Lake, the edge of the standing timber can also produce fish. A jig-and-pig combo eased painfully slow along the bottom may produce a winter trophy.
Channel catfish can be caught nearly any time of year. Popular places for catfish include off the causeway crossing Antioch Lake and the fishing jetties near the boat ramps.
General information:
Rocky Mountain Recreation and Public Fishing Area is a multi-use facility. Along with fishing, there are opportunities for picnicking, hiking, camping, swimming, and hunting. Anglers are not required to possess a Wildlife Management Area stamp to fish at Rocky Mountain.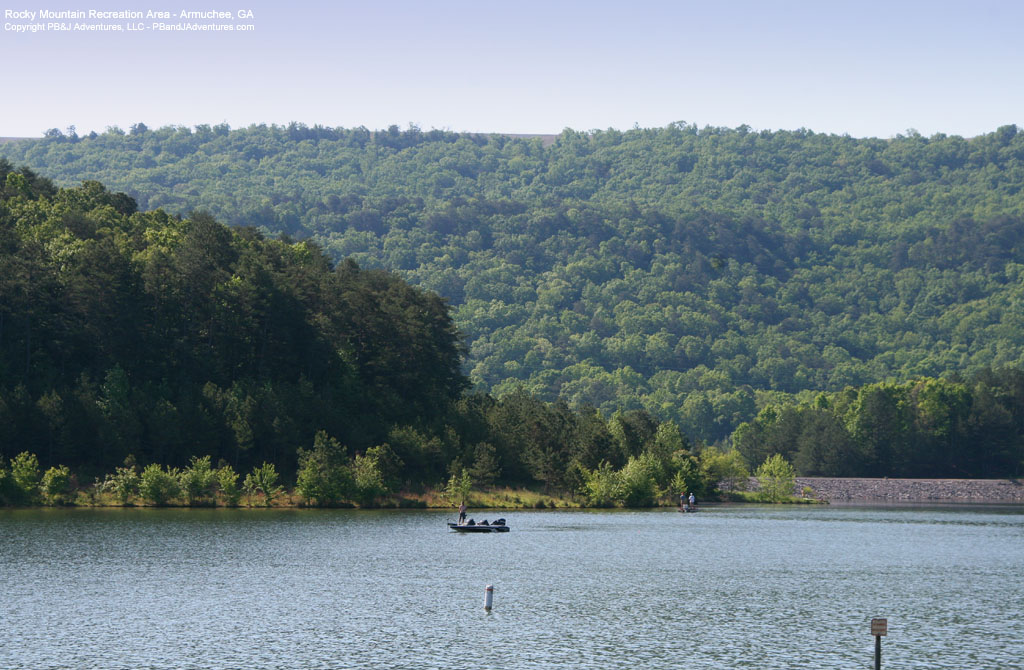 A daily parking fee is charged. No horsepower restrictions are in effect on the lakes, but all boats must be operated at idle speed (no wake). Basic supplies are available from two general stores within 6 miles of the area. Food and lodging are available about 18 miles away in Rome.
Nearest camping:
A developed campground is present in the area. Full-service sites with electricity and water and primitive sites are available. The campground has a comfort station with flush toilets and hot showers. Camping is on a first-come, first-served basis; no reservations are taken. Camping is allowed only in designated areas.
Directions:
From Rome, go north on U.S. Highway 27 for 10.4 miles. Turn left on Sike Storey Road (CR 240) and go 0.4 miles. Turn left onto Big Texas Valley Road (CR 235) and travel 5.4 miles to the entrance of the area on the left.
For more information contact the Area Manager's Office at Rocky Mountain Recreation and Public Fishing Area.
Lake Marvin Key species
largemouth bass, bluegill, redear sunfish. Overview: Lake Marvin is owned and operated by the Northwest Georgia Girl Scout Council and is surrounded by Johns Mountain Wildlife Management Area and the Chattahoochee National Forest. Best way to fish: boat, shore. Best time to fish: March through June.
Description
Lake Marvin is about 90 acres in size. The lake is part of a Girl Scout Camp, but is open to the public for fishing. Lake Marvin is locally known for fine bream fishing, but the bass fishing can also be good, especially in the early spring.
Although Lake Marvin is small, it is picturesque with forested ridges.
The fishing:
Redear sunfish, bluegill, and redbreast sunfish are all present and easily enticed with a small worm or cricket. Lake Marvin is also a good place to use a fly rod with sponge spiders or small popping bugs. Fly-casting is an excellent way to work for a shoreline or bream bed. You can use the spincast or the light spinning reels for doing the job.
Largemouth bass should not be overlooked. The upper end of the lake is shallow and warms quickly, making it a perfect place to try for a trophy-class fish early in the year. A lot of blowdowns are in the lake and they always seem to produce bass for the persistent angler. Good baits to try are plastic worms and spinnerbaits. During the winter and summer months, when bass will be deeper, fish a Texas-rigged plastic worm or a deep-diving crankbait right on the bottom in deeper water.
Crappie are also in Lake Marvin, but they tend to run small. Early in the spring, they will concentrate around the blowdowns and other woody covers to spawn. Crappie is easily caught during this time on minnows or small jigs. For the remainder of the year, crappie suspends over deeper water and trolling small jigs is the best method for catching them.